The summer that is coming to a close was full of good books. The Essex serpent, by Sarah Perry (2016)  pleased me as much as Fludd and I know why the caged bird sings.
I had bought the paperback  last year in Grasmere, when I travelled with some younger friends around the North of England. It waited for me on a shelf, and I picked it up when I left for another short trip to England, to the South- West this time.
The novel covers one year (chapters are called for each month rather than numbered) in the lives of the characters. It starts with a death on New Year's Eve, but there will be almost no talk of the man who goes for a swim while drunk in the story: a way to tell the reader not to expect the obvious, and to pay attention. One does need to read with one's brain on, because the focus often shifts from one character to another, and if you read carefully, the way the story is put together will be very satisfactory.
The relevant death, the one which  starts the plot happens before the storybegins: a cruel man, very rich, leaves behind  his wife, Cora Seaborne, and his son, Francis. She is eccentric, clever, intolerant of the expectations society places on women. Her son looks like a case of Asperger, and his conditionis  used very  intelligently by the writer.
Some very rich friends who like to interfere with people's life and decide that Cora needs a change of air. They convince her to move to a village in Essex with its fogs, its marshes and – maybe – its monstrous mystery, the eponymous Essex serpent. There she will find an unlikely friend in the local vicar: handsome, serious, in love with his wife, The novel is studded with their notes and letters, as sometimes they find written words are easier.
Their complicated relationship is the backbone of the plot. Around them move all the other characters, most of whom are Cora's friends: two young doctors and  a "companion", an educated working-class  woman  who lives with Cora and Francis, more a friend than a member of the house staff. She is  a socialist and a lesbian, but it is one of the novel's merits that this gay thread of the plot is not so important after all.
In many contemporary novels set in the Victorian era that feminism and sex are too much in the forefront. It is maybe  inevitable for a writer to comment the Victorian world as we imagine it (very prudish and absolutely unwelcoming for anyone not strictly straight and not abiding by social rules) by talking about aspects of life which aren't usually mentioned in Dickens or George Eliot, but sometimes the result is either suffocating (I'm thinking of A. Byatt's Possession) or simply excessive and redundant(The crimson petal and the white). Here the limits to women's lives are discussed, and one famous victorians whose gender worked against her is Cora's model: Mary Anning. yet it doesn't drag the story down with ideology, and I was grateful of that.
The novel is dickensian in the best sense of the world: there are  many details which are never meaningless (a child's webbed fingers), and some characters are weird but not charicatures. The brilliant surgeon, Luke Garrett, made me think of Jenny Wren, the dollmaker, although he shares with her only  determination. Sometimes we hears echoes – beside Dickens, with his fog and his taste for creating miniatures of secondary characters, Stevenson was brought to my mind, especially in the nocturnal episodes set in London. Thomas Hardy has a brief quotation from Far from the madding crowd, and you may recognize a nod in Hawthorne's direction – or maybe Arthur Miller's.  There are probably others which I didn't recognize, but I think it is a quality when intertextuality is there, but it doesn't have to be recognized for the book to be appreciated.
And the Essex Serpent? The creature obsessing a small, normally quiet community? Some of the characters think it is the same monster which disturbed Essex in  the late 17th century, according to some popular sources. One needs to get to the end of the novel to know whether it exists or not, but its shadow, its noises give the novel its peculiar scent. You will have to decide, as you read, whether you believe the signs of its existence and, if you do, whether you expect the creature to turn the story into a gothic tale or if you think it is only a dangerous animal.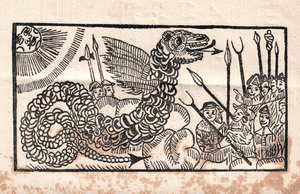 A woodcut from a pamphlet printed in 1669: The flying serpent or strange news out of Essex.