As I may have already said, my husband and I spent our holidays near Oxford, in the village of Benson. We discovered that  nearby Wallingford was a very pleasant medieval town, with a lively centre and the  placid banks of  the Thames. We were often there for a drink, watching the barges, and the families of ducks.
We knew that the area had been the location of Midsomer Murders, the ITV series starring John Nettles, based on Caroline Graham's novels. Yet,  when the other night we watched an episode (The Shadow of Death) it was exciting to recognize Wallingford disguised as Badger's Drift, the site of some gruesome murders carried out in revenge for an old sin.
There went  Dci Barnaby driving over the long bridge across the Thames; there was the market square, with the church in perpendicular Gothic style, the cinema, the shops.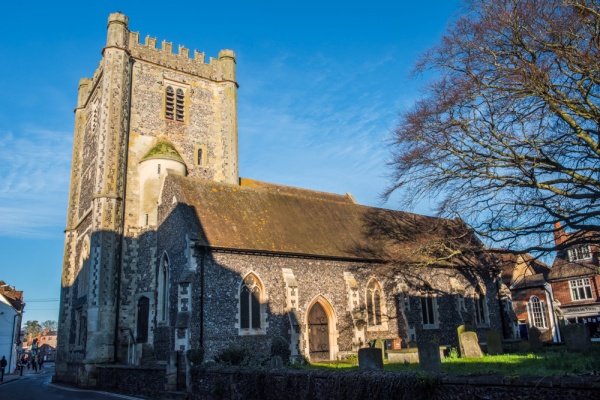 St. Mary Le More church in Wallingford
We had been coming and going from a tiny corner of the realm of fiction, and we didn't know!
Ps this has got more to do with history than with stories, but it's interestung so I'll write it anyway: in the early Middle Ages Wallingford was much more important than now: it even received a royal charter before London did. The town gave its allegiance to Empress Maud during the Anarchy (the first English civil war) and never wavered.