I shouldn't be here telling perfect strangers what I read last year  – I should get down to business and start correcting stuff, because there is only one  week before school starts again. Well I have actually done a bit, and I did yesterday, too, so maybe I could write the list and then come back to it.
Last year ( only yesterday it was still "this year": that's the power of  language, to make things sound farther away than they are, or closer, I suppose) I read twenty  books, but not all of them were fiction.
Poetry: I read Briggflatts by Basil Bunting. Difficult,  I cannot say I understood what it meant all the time, but there were flashes, lightnings, sounds. Just like when I try to read a little in Old English. Bunting believed that what really matters in poetry  was the sound, the sound IS the meaning in his works. It is an experiment of fusion: arcaic English settings, Italian musical forms and the result is beautiful words cutting like stones, and some very lyrical passages. The opposite attitude to T.S.Eliot. I can't believe I had not listed it.
Last summer I bought a collection of Thomas Hardy's poems, and they are really good; I put it aside about halfway through it, it was too pessimistic and gloomy. I am still reading an English translation of Tomans Transtromer's The half finished heaven. A new poem now and then. They're  more down to earth, but beautiful.
The Half-Finished Heaven
Despondency breaks off its course.
Anguish breaks off its course.
The vulture breaks off its flight.
The eager light streams out,
even the ghosts take a draught.
And our paintings see daylight,
our red beasts of the ice-age studios.
Everything begins to look around.
We walk in the sun in hundreds.
Each man is a half-open door
leading to a room for everyone.
The endless ground under us.
The water is shining among the trees.
The lake is a window into the earth.
I could add that I discovered Transtromer thanks to BBC's Wallander: in one episode, Ken Branagh/ Wallander recites the poem above at a funeral.
Essays: Under another sky, on Roman Britain,  by the journalist Charlotte Higgins.  Well documented and pleasantly written, it is a good read even if one is not especially interested in the Roman world, because the second half is devoted to the rediscovery of the country's past in romantic times, and how the Roman heritage has been perceived in Britain in the last three centuries. If you have walked the Wall, or think you will do that some time, it is a book for you. (The Wall: the real one, which a long time ago stood, north of seven warring kingdoms, like the one made of ice).
Other minds, by Peter Godfrey-Smith, a brilliant, very surprising book by a philosopher who was intrigued by cephalopod behaviour as he saw it when scuba-diving; he started studying the biology that originates it and then reflected on how different, totally alien the minds of the tentacled tribe are. It was maybe  the best read of the year for me. I only saw Arrivals (Villeneuve's film) later, and wondered whether the script writer, Eric Heisserer, had been influenced by this essay. I know the film is an adaptation of an older book, but I have no idea how the aliens looked like in it.
Other non-fiction: The Shepherd's Life, by James Rebanks, bought during a happy short trip to the Lake District – a revelation: anyone interested in England should read it; A post on The sheperd's life
L'anno del ferro e del fuoco (The year of iron and fire) by Ezio Mauro, on the Russian revolution. The  Romanoffs and the revolutionaries – Kerensky, Trotsky and Lenin are historical people who did certain things, and those are facts. But being part of such a cataclismeic event, on which opinions can be extremely different, when their story is told they will appear different, depending on the type of text (academic or popularising, factual or fictional)  but also on the political side the writer takes. The doomed imperial family can be seen with sympathy or as someone who got their right desert for not understanding the world they lived in. The horrid Rasputin is repelling. Lenin and Trotsky, two absolute political geniuses, can be heroes or villains in a  chain of event which would have been as good as the wars of the Roses to write about. Ezio Mauro, a journalist, made a series of documentary films which were synthetised in this booklet. A good revision, pleasantly told. The  sparse shreds of Russian my brain has retained were tickled now and then, with Lenin's claim "Est takaya partia!" (Such party exists) coming up now and then for the last month or so.
1000 years of annoying the French (the number is in digits in the title, I am not being lazy) by the British journalist Stephen Clarke. It took me three years because it is pretty long and some chapters (especially the 17th and 18th century)  are a bit slow, but if you are an Anglophile or a Francophobe, or both, it's very funny. It is a way to revise British history while happily laughing at the completely un-p.c. attitude. Some chapters were especially useful: for example the one on the Normans: there is a kind of standard version which claims the Normans to have gone already completely gone native, meaning that they were actually like Frenchmen by 1066 but, as mr Clarke reminds us, for one thing, the Normans  still bore many traits of their Viking ancestry, as it was still very recent and besides, new arrivals  from Scandinavia were settling down in Normandy all the time. An example: the Normans didn't think being illegittimate a big deal, as it was still common for them to live together without being married. The  Latin phrase for that sort of arrangement at the time was "to live more danico", "the Danish (Viking)  way" Moreover, that was not yet France, it was Frankia and the Franks were, too, a Germanic people, although they had been Christians for centuries by then.
History is a story, and one should be aware of of the angle from which it is told. I enjoyed Mr. Clarke's angle a lot.
Banditi (Outlaws): a short, moving memoir by Pietro Chiodi on his experience as a "partigiano", an anti-fascist insurgent in Nazi-occupied Italy.   There was a public reading of memoirs and fiction about  "La resistenza" (the struggle against the fascist regime and the nazi occupation, during World war II) last April, a few days before Liberation day, and I took part in it. I had nor read anything about since I was a girl in school, because I was made to read too much about that, too young; it was a good thing, I was glad to read about that struggle, about  the courage and determination it took.
The four  books above are stories, in a way, narratives,  although they are not fictional.
Drama:
King John  I am very keen on   Shakespeare's historical plays; it was not as smashing as Richard III or Henry V, but I was happy to read it.
Sette Minuti: consiglio di fabbrica (Seven minutes: factory council) by Stefano Massini, about how easy it is to lose your hard-earned rights on the workplace; one should always keep "Constant vigilance" (who said that? not a trade unionist, no.)
I'll add  here Fantastic beast and where to find them, the film script. More enjoyable than The cursed child, especially as, having seen the film already, I could visualize what I was reading, which is especially nice in fantasy fiction. 
And here is  the fiction, in reading order:
Faulkner's The sound and the fury;  I confess this novel defeated me. It is complex and the writing is very sophisticated – each of the four section is from the point of view of a different character, in a different style, which was interesting; some pages are really beautifully written. It is the kind of book for which you need all your brain circuits in perfect shape, which is not always true in the Christmas holidays when I read it, almost a year ago. Like when reading Virginia Woolf, sometimes I needed to read some pages over again to understand what they meant. These are not in themselves defects: some authors are difficult, it's their choice, and I  knew that it would be tough. I suppose what really put me off  was the plot. You can toil to read difficult prose, and be glad of the hard work because the language is beautiful or because the story is  satisfying. The sound and the fury is about a disfunctional   upperclass southern family in the US, with someone not in their right mind, some incest, money problems…not my stuff really. Plot-wise it felt like The great Gatsby: I couldn't care less for the characters or what happened to them. I am equipped with a second-degree reader to analyze complex texts,  but the first degree reader is always in charge and wants a good story.
In the presence of the enemy, by Elizabeth George (a Lynley Mystery).
Elizabeth George 's one of the detective-story authors I read. Her language is rich, the vocabulary very varied; the prose seems absolutely british, while she is actually American (not that American English has got anything wrong in itself). As in some of her other novels I have read, the story develops for quite a few pages (about one third of the total, here) before the investigators – Linley and Havers – appear, which means that a story of crime can be explored by the reader before the mechanism of police detection starts. Like in other Lynley Mysteries, we are offered several points of view, including the criminal's, and to each corresponds a slightly different way of narrating the story: more emotional,  more neurotic, more objective. Slower, or faster. The way the mind of  children works is  beautifully rendered. At every shift from one  narrative focus to another, one  has to understand where one stands, and adjust the reading parameters, for example, deciding how reliable the narrator is, or how innocent.
One constant in this series is the interest in class distinctions in English society, starting from the unusual team of detectives where Thomas Lynley is an earl, while Barbara Havers is working class. This  story of kidnappings and murders has politicians and journalists at the core, with  ambition, ruthlessness and resentment as the narrative propellent.
Stefano Benni's rewriting of Rostand's Cyrano. Nice pictures.
La rivoluzione della luna (The revolution of the moon) by Andrea Camilleri, a historical novel set in the 17th century on a Spanish noblewoman  who ruled Sicily  just for a few months. Not as good as Camilleri can be, but interesting and entertaining.
I due leoni (The two lions) by Francesco Grasso. See the post "Brothers in arms" on this blog.
Miss Peregrine's home for peculiar children, by Ransom Riggs.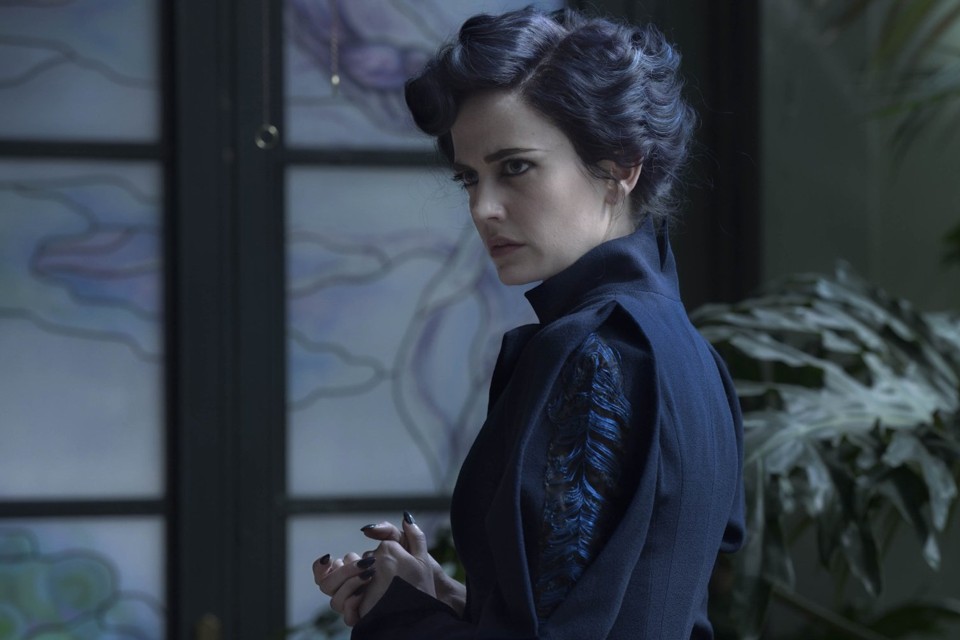 Eva Green as Miss Peregrine
I read the book after watching Tim Burton's adaptation, which was good, but -maybe inevitably – less unusual; it was certailny less disturbing: some of the most gruesome signts in the film are moderate versions of what we read in the novel. I can't say I didn't like it, because I did, I found it  compelling, and it is certainly well written , especially the descriptions of Wales have a fine balance of eeriness and gloom. The story and characters are  credible – in the way fantasy or the supernatural can be, yet  I do not imagine that I will want to read it again,  I am not going to read the following volume, and I certainly did not like the characters as much as -the obvious comparison -those in the Potter novels. They are little more than their peculiarity. Besides, monsters are not my thing, really: a reason why I never finished the Complete Lovecraft someone lent me many years ago. Monsters are just that, they are monstruous, horrible assorted bits of flesh, fangs and claws which want to destroy others. No more. They don't want you to join them they are not going to be redeemed, there is simply a hunt in which two sides (humans, though weird ones, and human-destroying creatures) try to kill each other. The only emotion for the reader is fear: that is enough to produce suspance, but no curiosity, no hopes. I cannot build my own version of that world and imagine how it will change, and besides, I'd be too scared to visit.
The Lewis Chessmen and What Happened to Them, a short story by Irving Finkel. about the famous Viking chess pieces from the Outer Hebrides. It is a fantastic story, in a way, because the pieces are animated and the story is from their point of view. Not great literature but pleasant. I got it at Roskilde Viking ship museum.
Girl on a train, by A.J.Waines. See  the post  What's in a thriller.
Harry Potter and the Philosopher's stone, JKR, for the fifth time. Certainly not for the last. Sooner or later I will have to write about the Potter books, but the Christmas holidays are over.
And finally, Ken Follett's A column of Fire. I had been  badly disappointed by Follett's  latest  historical novels, volumes 2 and 3 of the Twentieth century trilogy: they were boring and obvious, they made me worry that the writer had lost his knack.  I actually had no idea he  had published another until I saw it on Amazon, but this was the third novel on the town of Kingsbridge -an imaginary town with a medieval cathedral and a thriving market. It had to be good! The first novel, The pillars of the Earth, is set in the 12th century, during the Anarchy, (the first civil war, fought between the supporters of Mathilda, daughter of Henry I and appointed heiress to the throne, and her cousin Stephen). It is the most enjoyable fictional depiction of the Middle Ages you can ever read, except maybe for The name of the rose by Umberto Eco. World without end, the second instalment, is set during the Hundred years war, at the time of the great plague in the Mid-14th century. It is almost as good as the first, or maybe it is, and I simply liked it slightly less because  I didn't really like the female protagonist, Carys. Ken Follett is not a writer of arty prose, but he know how to devise a complex plot with lots of threads that meet and depart from each other without a wrong stitch. His characters are credible in their behaviour and their psychological evolution. there is no repetitiveness, except for the incendiary sex episodes that occur regularly. If the Middle Ages fascinate you, and  England is the core of your cultural interest – as it is for me, then Follett's two medieval novels will enthrall you. I really couldn't find a fault with them even if I tried.
A column of fire is less wide in scope: it deals with the religious wars and the dynastic crisis of the Tudor era, which is not little, but I really enjoyed how the author could weave architecture and medicine  into the plot in the earlier books. It is also  less long (ONLY about seven hundred pages, againt the one thousand of Pillars; World without end is even longer). The characters are credible and varied, although maybe they lack the fire that animated Tom Builder, Jack, Aliena and Merthin. If BBC or anyone else should make a series from it, I hope it is as good as The pillars of the earth, and not as mechanical and dumbed down as World without end, although that, too, had very good acting. Anyway, do read  A coulmn of fire, but read the other two first if you haven't yet – they are independent from one another, so you can read them in any order.
A time for everything still remains unfinished. I am around page 300 out of five hundred. It is really, really good, it surprises and fascinates, but it never moves on. I'll have to try harder to stick to it. It is worth it.