I have finally finished Girl on a train, by A.J. Waines. It's taken me a month, which is a lot by my standards. I can't say it's bad, but I didn't like it, really – there was no thrill for me in this investigation, I could not care for who had killed a character who lasted just a bunch of pages, and I could not sympathize for the narrator with her sudden impulse to investigate, her dead husband and her need of a closure.
It's not that I don't care for thrillers and detective stories in general: I have read all the Pepe Carvalho stories, almost all the Commissario Montalbano adventures, long and short  (Camilleri seems never to stop writing so I may have missed some) and three more mysteries, this time set in the 19th century,  by the same author ; the three Galbraith/Rowling books and maybe five of Elizabeth George's Inspector Lynley's mysteries. For each of these series there was a first book I liked well enough to go on, and then another and so on, each different enough to be intriguing, but keeping with the elements I had enjoy previously. It didn't work with other series: I read one Wallander novel and never went back to Mankell's books (I did go back to the character, though: I have watched and bought all the BBC series with Ken Branagh and even watched a few episodes of the Swedish one), while The girl who played with fire was difficult to finish, too boring and flat for such a thick volume.
So why do some detective stories intrigue me while others bore me? What doesn't Girl on a train have, which The cuckoo calling has?
Most detective stories give ample room to a detailed description of the setting. That sometimes becomes the central element, the pillar of the story, as is the case in Camilleri's description of contemporary Sicily, and in Montalban's exploration of the post-Franco years in Barcellona. Both writers clearly use the detective's work to carry out an investigation on contemporary society and its roots. Elizabeth George and J.K. Rowling may not focus so much on society but they do explore the British class relationships in ways that are not obvious, and share their conclusions with the reader. What is more, all these authors create a mood that seeps into the mind of the reader: with Montalban it is sensual melancholy, while it is  irony, but also rage in the face of corruption, with Camilleri. Both Elizabeth George's and J.K. Rowling's attitude is dispassionate but at the same time, there is warmth in the way they look  at contemporary England.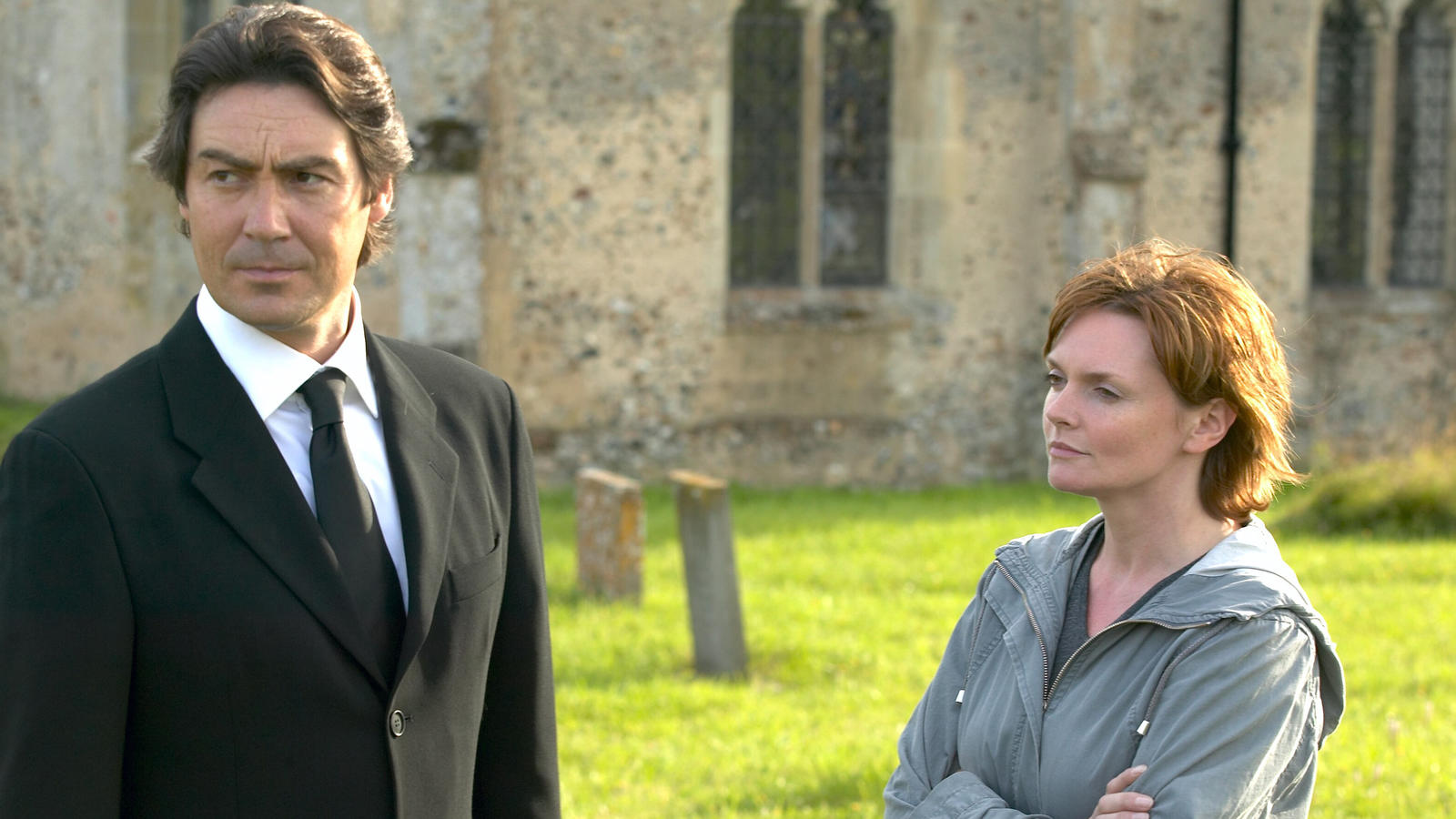 Nathaniel Parker and  Sharon Small  in the BBC series The Inspector Lynley Mysteries
I couldn't find any warmth, or irony or anything in the London of Girl on a train: the setting is detailed competently, but it is just that, a setting with secondary characters who failed to engage me in the least, and a first-person narrator that didn't manage to engage me emotionally or intellectually.  And I didn't find any pleasure in the style, while the Lynley books have this  gorgeously rich vocabulary, and Camilleri's literary Sicilian in such great fun (once you have mastered it) that even if the plots lacked interest, I'd still want to read them. All the four authors are capable of using narrative devices with skill but without letting them be in the way of the reader who is mainly interested in the solution of the crime. In some of E. George's work, the literary complications (multiple plots and time shifts, mainly) make the discovery of facts more enjoyable just because they make it more difficult, because you keep trying to figure out  not just what happened and what will happen next, but how the different threads will go together in the end.  In Girl on a train, the switching from one narrator to another is all that there is, but the language remains the same, and while I am not saying  it is bad, or poor,  it isn't much good either. It is  flat,  it is  just there to tell a story, and even when it is flavoured with with the Caribbean accent of two minor characters that doesn't have much impact.
To conclude, I think the plot matters, but everything else matters more. And in the plot, the details are more important than the basic  "whodunit" mechanism, because if they are used skillfully you will be able to go back to the book with pleasure: you may remember who the culprit is, but not how you get to discover that, or how he or she did what they did. I rarely allow myself to read the same book twice, having a whole world of unread books waiting for me, but just sometimes, as a treat I'll do that. I read The cuckoo's calling for the second time some months ago and found it as rewarding as the first, while after reading The hound of the Baskerville and A study in scarlett at university I never went back to Conan Doyle (who writes beautifully – but it didn't click for me).
Sherlock Holmes in a sketch by Sergej Ejsenstein (AA Bakhrushin State Central Theatre Museum)
And talking of books I have allowed myself to re-read, the best Italian detective story, Eco's The name of the rose  kept me on my toes each of the three times I read it. Eco's fiction never got as good as that first mystery again.